The Truth about Winter Tires in Oakville
It's snowing outside and it makes a lot of sense to switch to the winter tires as quickly as possible. Of course, a lot of people switch their tires at the last minute. Winters in Oakville can be pretty harsh at times. If the road is dry, the driving conditions are better. You will still have less adherence with regular tires when compared to the winter tires when the temperature is cold, and that's definitely something that you need to keep in mind in a situation like this.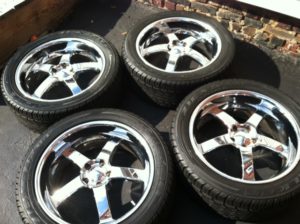 Replacing your tires is a very affordable task, but a lot of people just don't really see the benefit of going to a tire shop in Oakville. They say they are very busy and they don't get a checkup or replacement for the tires or rims till the last minute. That's obviously quite the challenge, and you must do everything you can in order to eliminate such a situation, otherwise you will have problems if the weather turns.
Even if you believe that 4WD might be the answer, that's not always the case. You just have to handle it adequately and go to the tire shop for the winter tires anyway, just to be safe. It's all a matter of knowing what to replace and when you actually need to do something like that. It's definitely a crucial thing to pursue and it will be worth it to be safe.
There's no way around it, you need winter tires especially if it's snowing and the temperature drops below freezing in Oakville. But even if there's no snow, the adherence is a lot better in cold weather. Just use that to your own advantage and replace the tires now for the best results. Contact us for our Winter Tires sale. Get a free alignment check with every purchase.
Please follow and like us: